Under the conditions of quantity and gross production the induction heating is more efficient.
The advantages are the following:
Premium efficiency, ca. 60…70%;
Minimum time consumption for setting-up procedures;
High efficiency;
High degree of automatisation;
Short waste of metal is 2-4 times smaller than in combustion furnaces and resistance furnaces (if there is no shielding atmosphere);
Dies working life increase by 20-30% because of scale crust decrease and material plasticity increase owing to flash heat. Therefore this is very efficient.
There are different types of steel which can be heated: from low-carbon to alloyed steel and also titanium, aluminum, copper and other metals alloys.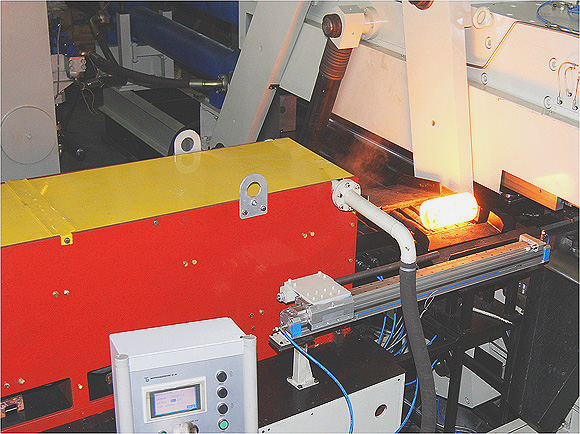 The aim of heating is getting the preset temperature with definite permissible inequality of part volume. 1000…1250 ºC is an average temperature for steel.
The range of heated billets lies from 10 mm till 150 mm diameter and weight 10 gr. till 50 kg. In this case power could be from 50 kW to 1600 kW and frequency range from 0,5 kHz to50 kHhz
Billet geometry might be either cylindrical or in shape of plates, cone, springs etc. Heating of billets may be performed either throughout the body or the ends and also definite areas.
Heated billets output rate might be set by the Customer in the form of cycle time, sec per piece or productivity, ton per hour.
Energy consumption is 400…420 kW*h/t while volumetric heating for further plastic deformation up to the 1200-1250 ºC temperature.
Induction heater consists of the following main components:
Heater cabinet unit;
Inductor;
Mechanical and automation means of in-feed and out-feed of billets;
Control system based on controller with temperature meter
Water-cooling system
Power generator on the base of thyristor or transistorized frequency converter (TFC).
In our induction heaters we use converters of the following companies: ROBOTHERM, Czech Republic; ESTEL, Estonia; RELTEK, Russia; ELSIT, Russia; TERMOLIT, Ukraine and others. Customer may also select generator at his own discretion.
To reduce production facility inductors could be located as follows:
Horizontally;
At an angle to horizontal plane;
or vertically.
Depending on required capacity of the heater and heated billets temperature there are different types of heating systems can be used either direct-axis and cross-axis electromagnetic field.
Experts of JCS Beltechnologia & M had designed and introduced into production double-row and double-grooved heating system units that made possible to reduce inductor length.
Inductor length of our heaters may be from 0,4 till 2,5 meters. A modern ceramic materials and special concretes are used for thermal insulation of the inductor.
Developed by our specialists designs of inductors have the following:
high maintainability;
easy servicing;
long lifetime.